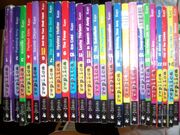 "Replica" is a children's science fiction series about Amy Candler, a young teenager who discovers she is one of thirteen cloned girls who have been genetically modified to have superhuman abilities. She was created in the government-funded Project Crescent, and was kidnapped and adopted by one of the scientists after a change of heart. Throughout the series Amy struggles to live a normal life as the mysterious Organisation tries to use her and the other Project Crescent clones to create a master race and take over the world. Amy also seeks to help the other clones in the project, and encounters a number of other children and teenagers with genetic modifications or supernatural powers.
This series is very popular and has been sold internationally.
Books in the Series
Edit
There are 24 books in the series, but there has also been a separate series based on the same characters published in 2002.